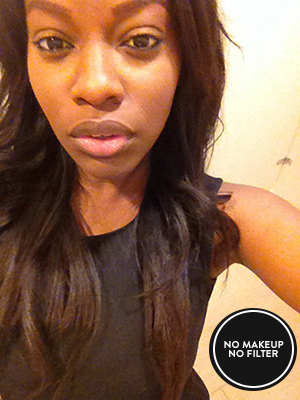 Despite the heat, my summer has been off to a pretty cool start. I've been spending the majority of my time at the beach and let's face it, when it comes to makeup, "ain't nobody got time for that." So I've been rocking my 'dermis and spending my nights with a cake face. But this time, not with products that conceal and hide what I deem my imperfections, but a concoction for maintenance. You see, I write about beauty and skincare because I've suffered with skin issues pretty much my entire life. Hyperpigmentation, dryness, and itchyness? That's my skin in a nutshell. So I take preventative measures before letting things get any worst.
Remember back in 2012 when I told you guys that I was on a mission to have skin that was better than makeup? Well, I've been committed to that journey and I must admit, things have been going pretty well. Although I'm still working on upping my water-drinking game (hey they say it'll drop 10 years off your face!), my skin regimen has been a strict one that consists of fixing problem areas.
For my girls suffering from Rosacea – there are over 16 million of you – I'd recommend you beat it, and I don't mean with makeup. Rosacea, often referred to as adult acne, is a common inflammatory skin condition and Mirvaso is the first and only prescription treatment specifically developed and indicated to treat the persistent facial redness of it. Not only is the cream bomb-diggity, but it's also super easy-to-use and it yields quick results. And the reason why I appreciate Mirvaso so much is because they offer quite a few coupons on their site that you can bring to your pharmacy for discounts!
Covering up your blemishes and redness can be costly and temporary but treating problem areas can build confidence and save you from the hassle of concealing.

Indication: Mirvaso® (brimonidine) topical gel, 0.33% is an alpha adrenergic agonist indicated for the topical treatment of persistent (nontransient) facial erythema of rosacea in adults 18 years of age or older. Adverse Events: In clinical trials, the most common adverse reactions (≥1%) included erythema, flushing, skin burning sensation and contact dermatitis. Warnings/Precautions: Mirvaso Gel should be used with caution in patients with depression, cerebral or coronary insufficiency, Raynaud's phenomenon, orthostatic hypotension, thromboangiitis obliterans, scleroderma, or Sjögren's syndrome. Alpha-2 adrenergic agents can lower blood pressure. Mirvaso Gel should be used with caution in patients with severe or unstable or uncontrolled cardiovascular disease. Serious adverse reactions following accidental ingestion of Mirvaso Gel by children have been reported. Keep Mirvaso Gel out of reach of children. Not for oral, ophthalmic, or intravaginal use. You are encouraged to report negative side effects of prescription drugs to the FDA. Visit www.fda.gov/medwatch or call 1-800-FDA-1088.

____________
I was selected for this opportunity as a member of Clever Girls Collective and the content and opinions expressed here are all my own.