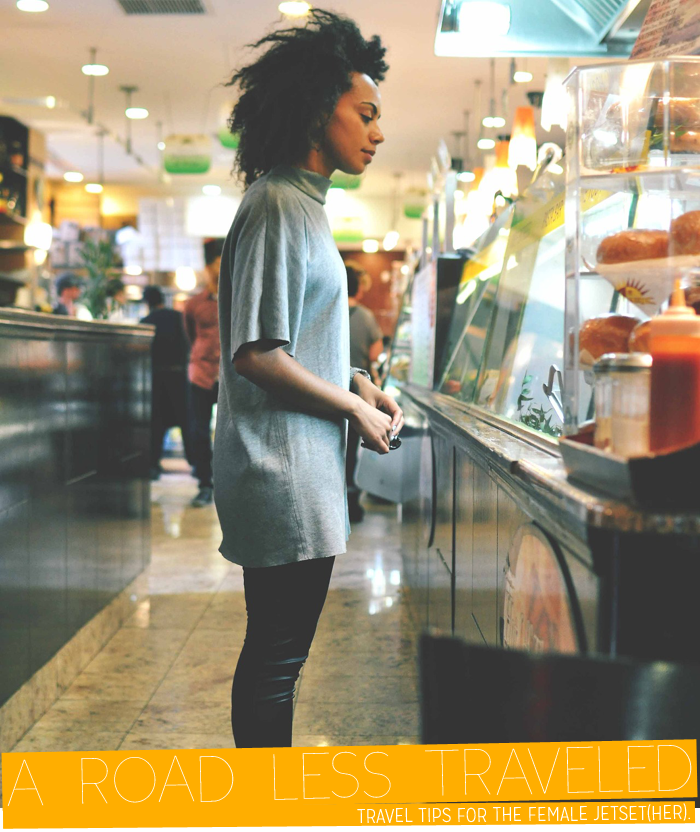 Traveling when you're not really adept to it can sometimes be an intimidating thing. You walk into an airport that you don't frequent often, check in, go through security, find your terminal and sit in your corner until it's time for you to begin boarding. Rarely do you get up to walk around the airport and enjoy it's little eateries and rarely do you get out of your seat to window-shop at all of the airport's little stores. Before you know it your flight boards and you take off to your destination only to be dropped off in a city/country that you are foreign to. Thankfully this journey allows for learning through trial + error. It's only through our mistakes that we are able to learn new ways of doing things. Because let's face it, it's hard to navigate a road less traveled seamlessly without a prior heads up or without prior first-hand experiences. Here I'm sharing a few tips that I've learned while being a female jetset(her).
+ Did you know your hotel offers free items? Most of you already know that I work in the hotel industry. At our property we offer a lot of complimentary items that only a few guest know about. For example, at my property we offer free things like Colgate toothbrushes, toothpaste, shaving cream, shampoo, combs, etc. Our Platinum guests who travel often know not to pack these things in their suitcase, as they are available upon request at check in. Not only does it allow guest to get a better bang for their buck (they come with the purchase of the room) but it also saves space in their travel bags. Contact the place you're staying at to see what amenities they offer and what items they provide in the event that a guest "forgets" something.
+ What to do if you don't have wifi. We live in the digital age and when we're in our home cities we know where and how to access the internet at all times. Unfortunately, however, traveling doesn't always carry such luxuries. Because of this I've gotten in the habit of printing out the things I would want to read on the web the day before I travel that way I can have full access to them during my downtimes, namely the time I'm waiting for my plane to arrive. Whether you like reading blogs, e-zines, or news articles, always have those articals printed before leaving to your destination that way you're not bored when wifi isn't on your side.
+ What if your phone dies while you're in the middle of no where? The only thing that sucked when I was in New York was having to find a place to plug in my phone to let it charge. There was one night that I was going to head back to my Loft, but my phone was on 10% so I had to spend 45 minutes charging it up somewhere to ensure that it didn't die on me while I was in the middle of no where. Now I know that if I travel it's really important to have an external battery handy. One that I love is the mophie, you can charge it at night, next to your phone and then use it when your phone is on it's death bed. (Ps: I recently saw them being sold at Dillards!)
+ And if your phone dies and you're in a bad situation? Okay, so even though I charged my phone for 45 minutes, it still ended up dying since my commute ended up being delayed. Grr. But when I hopped in the private car to head back to the Loft, the driver asked me where I was going, I wasn't screwed. Why? Because I wrote everything down in a journal I had in my bag. In that journal I jotted down my family's contact information, all of the addresses for the places I needed to be, my credit card numbers, etc in the event that I got merked! (Definition of merked: to be karate chopped by ninjas.)
+ Create an itinerary + list of hot spots. In that journal I also had a schedule. I know, I know, o-d. But trust me it helped so much! I didn't necessarily follow the schedule to the tee, but it did help me when I needed to figure out when to start my day and it helped me before I flew out because I packed according to that schedule! It also made for a great check list to follow that helped me accomplish everything I set out to do!
+ Purchase a temporary hot spot. If you're going away for an extended period of time, namely to a country that has questionable/spotty wifi access, I'd recommend you purchase a temporary hot spot. Contact your service provider and ask them how you can go about doing so from the country you'll be in and decide whether wifi is necessary for your trip. Nowadays, you can turn your phone into a hot spot (an external wifi connection).
+ Turn on a tracking device. Personally when I travel, I download the Find Friends app. An app that pretty much tracks my every move. I invite my immediate family + a couple of my closest friends to download the app just for the duration of my trip that way they can track me in the event that I'm abducted by aliens.
+ Leave extra room open in your suitcase. If you plan on shopping leave room open in your suitcase. What my family usually does is put our suitcase that is full of clothes into a larger suitcase. So if we need an extra suitcase we just detach the two without having to purchase an overpriced one from another place!
+ Carry a bookbag, protect outer faced pockets. I always travel with a bookbag. I like to be comfortable and well organized and a bookbag allows for me to do and be just that! My bookbag only has one pocket in the front – strictly reserved for pens and highlighters and the back section zips in from the back. Meaning I can't open the main section without taking the bookbag off of my back which is great! If anyone decides to pick pocket me they'll probably only get a pen that says "Jesus Loves You".
+ A few flight tips. Planes usually board 50 minutes – 60 minutes before take-off time. Sometimes an airport will change your flight's gate without directly letting you know. So be sure to check with the attendant at your gate to make sure your plane is stil scheduled to pick you up there or check the digital screen above that attendant's head. Also, now that checking bags have become so expensive more people are carrying carry ons. So if you're not on the plane first there may be a chance that your bag will be taken to be put underneath the plane or the attendant will ask you if they can "valet" or "check" your bag to your final destination. This happens when the overhead bins on the plane are all full! This means that your bag will be at baggage claim at your final destination at no cost! I usually always take this offer that way I can travel handsfree with only my bookbag on my back. But be sure to remove any valuable items from that bag they plan to valet for you, that way you won't be too heartbroken in the event that something goes missing, God forbid. I usually remove my electronics and put them in my bookbag.
Hope this helps! // What are your golden travel tips?