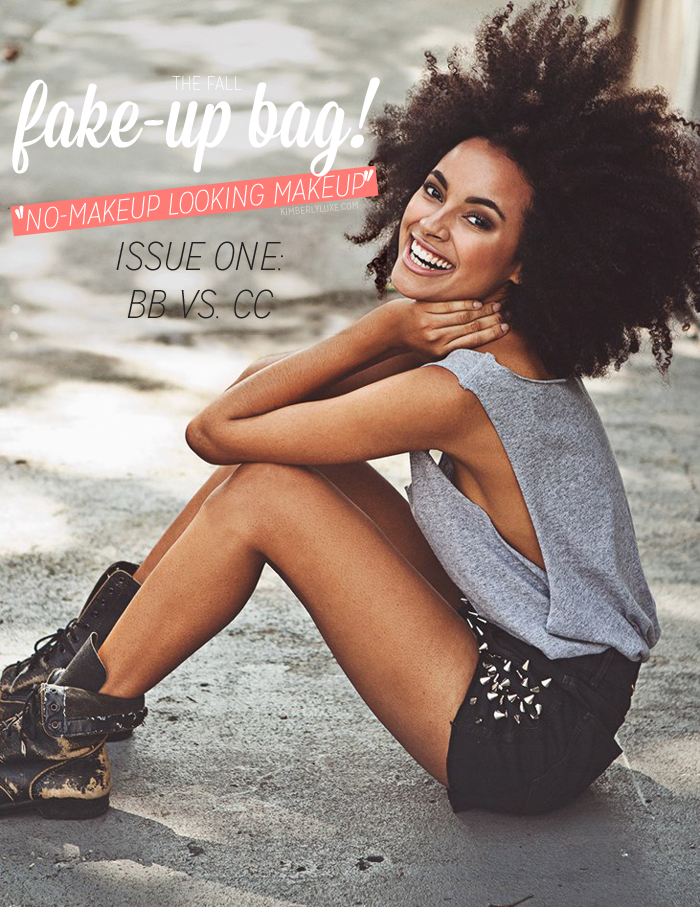 We're in-between seasons, and here in Florida our weather is ranging anywhere between it's so hot, I'm mad for no reason at all and it's pouring, time to eat my feelings while watching sappy movies. Even though the calendars say that it's pretty much Fall, there hasn't been any signs of a cool breeze nor has there been any leaves changing. But seriously, is the sun throwing his temper because he's gotten word that we've been secretly praying for winter or is he just partying like crazy before he travels to the other side of the world? I need answers because on these 90+ degree days, I've woken up each morning contemplating if I even want to wear skin. Clothes are rarely a thing that I look forward to putting on and quite frankly, makeup – is the last thing on my mind. In this Summer/Fall beauty series, we'll be building our Fake-Up Bags — ones that are full of shortcuts for achieving "No-Makeup Looking Makeup". We'll explore tips and tricks that'll help us get through the seasons effortlessly without the hassles of multi-step beauty processes. Because let's face it, make-up can often cake-up, so our goal for this series will be to, fake-it like we make-it.
| | |
| --- | --- |
| BB CREAM | CC CREAM |
| Blemish / Beauty Balm | Complexion / Color Correcting Cream |
| Hydrating + Moisturizing | Helps treat uneven + problem skin |
| Heavier | Lightweight |
| Less Coverage | More Coverage |
| Dewy Finish | More Matte-Natural Finish |
| + SPF | + SPF |
| Great for dry skin | Great for skin that needs correction |
| Not as harmful as makeup | Not as harmful as makeup |
BB Creams + CC Creams are great alternatives for ladies who aren't interested in foundation routines. These awesome products are in a sense lotion-like and moisturizer-like. You can apply them more freely by putting them in your hands and rubbing them all over your face or you can get fancy by using a sponge or brush. People often choose to wear BB and/or CC creams because of their not-so-makeup looking finishes and because of the ease that often comes with applying the product. The differences that exist between BB + CC Creams exists only in their benefits. Based on what your skin needs most, you can choose a BB and/or CC Cream that works best for you. If your skin is in need of repair, then CC Creams have great health benefits as they are Correcting Creams. And if your skin is just in need of a moisturizing solution and light-coverage then BB Creams may be a great option for you! BB + CC Creams each contain moisturizer + primer + foundation + spf but CC Creams also have added skin-fixing ingredients, typically ones for discoloration + acne. And Oily girls, don't forget that Milk of Magnesia (yes the stuff found in the laxative aisle) makes for a great oil reducer! Apply it using a cotton swab after washing your face and before applying your BB/CC Creams and experience long lasting coverage with little to no interruptions from your faces's natural oil! // Awesome BB + CC Creams Girls Are Loving: Maybelline Dream Fresh, Garnier Skin Renew, Smashbox Camera Ready, Bobby Boss BB Cream, Iman BB cream, Olay's Total Effects CC Tone Correcting. Are you a BB Cream or CC Cream type girl? Which brands are your favorites?!
Header Image Source: SmartistaBeauty