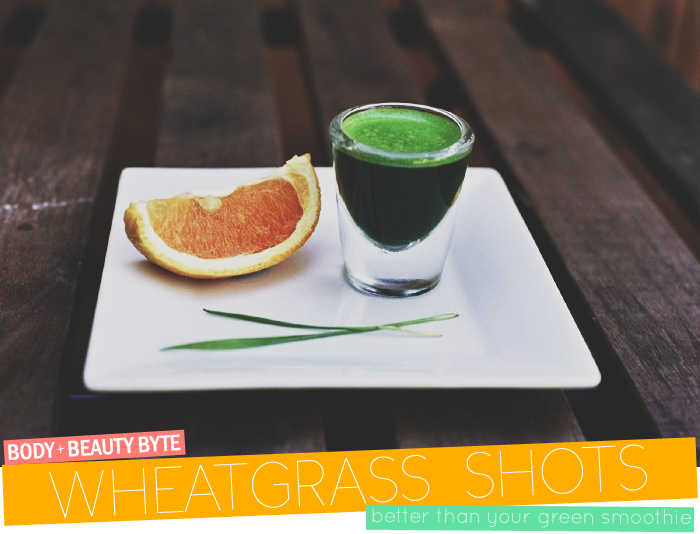 I took a trip to the co-op this weekend. I've decided to wear glasses for the next few months, to give my eyes a break from contacts and as a result, I've been having headaches. Google says it's normal and expected. I, on the other hand, say it's unacceptable. I'm not the headache-type, and I probably get them a few times a year, if at all, so I started researching recipes for fruits + veggies that promote eye health in hopes that my eye and brain would end the argument they were having somewhere behind the back of my eyeball. But as I searched for juicing remedies, I was overwhelmed by the many choices as the list of healing vegetables and fruits was extensive. I really didn't have any time for that. I didn't feel like going to the grocery store, washing all of the fruits and veggies, juicing them, mason jarring them, washing the juicer, and then repeating. At least not with a headache added to the mix. So I needed another quick-fix and remembered being introduced to Wheatgrass a year prior.

Wheatgrass has being coined by many to be a miracle-worker as it's praised benefits are pretty much endless! Wheatgrass is known to: + prevent cancer // + clear skin and reduce acne // + prevent tooth decay // + keep hair from graying // + treat blood disorders // + repair scars on lungs from inhaling toxins // + improve digestion // + treat skin disorders like eczema or psoriasis // + deodorize the mouth, skin, and body // + cure chronic sinuses // + kill growth and development of bacteria // and + restore fertility — and that's just the short end of it.
Wheatgrass also contains over 90 minerals, including high concentrations of the most alkaline minerals: potassium, calcium, magnesium and sodium. + Just one teaspoon of Wheatgrass powder, weighing a mere 3.5 grams, is nutritionally equal to an entire spinach salad weighing a full 50 grams. + Wheatgrass has more vitamin C than oranges and twice the vitamin A as carrots. + Wheatgrass helps your body to build red blood cells which carry oxygen to every cell. By increasing the oxygenation in the body you can help offset smog and carbon monoxide and increase your endurance during physical exercise. + 15 pounds of Wheatgrass is the equivalent of 350 pounds of carrot, lettuce, celery, and more. + It also contains 19 amino acids, the building blocks of protein making this one of the most powerful Wheatgrass benefits.
Needless to say I've been taking a shot of Wheatgrass everyday for the past couple of weeks and my headaches are gone and my energy levels have been through the roof. Thankfully, I've learned that Wheatgrass is rich in oxygen. Being that I've worn contacts faithfully without an elongated break, my eyes have been restricted from their oxygen supply, thus resulting in dry eyes that naturally suffered pain when straining with new frames. (I'm not a doctor, but don't push me). I love juicing daily, but I'm glad to have an alternative for days that I don't feel like going through the lengthy process of juicing. I'll be continuing the shots at least 3-5 days a week. At my organic grocer they're $1.50 for half a shot and $2.99 for one shot (1 oz.). Wheatgrass is a plant that has to be strained correctly in order to avoid illness, hence why it's taken in small quantities and often served up as opposed to homemade-up. Do your research if you're more interested in making it yourself from home. And remember that you have to take Wheatgrass on an empty stomach or else you'll throw up. It's also a good idea to dilute it in apple juice if you're just starting out. 30 minutes after taking it, you're welcome to go back to your normal eating routine; a healthy one of course. ;].
For those of you who've wondered how to go green on a budget and/or without spending too much time on it, Wheatgrass is definitely the best option for you!
UPDATED WARNING : YOU MUST TAKE A WHEATGRASS SHOT ON AN EMPTY STOMACH! NOT A COMPLETELY EMPTY STOMACH, BUT ABOUT 3-5 HOURS AFTER EATING. CHECK WITH THE STORE BEFORE TAKING SHOT. IT'S STRONG & WILL CAUSE NAUSEA IF TAKEN INCORRECTLY.