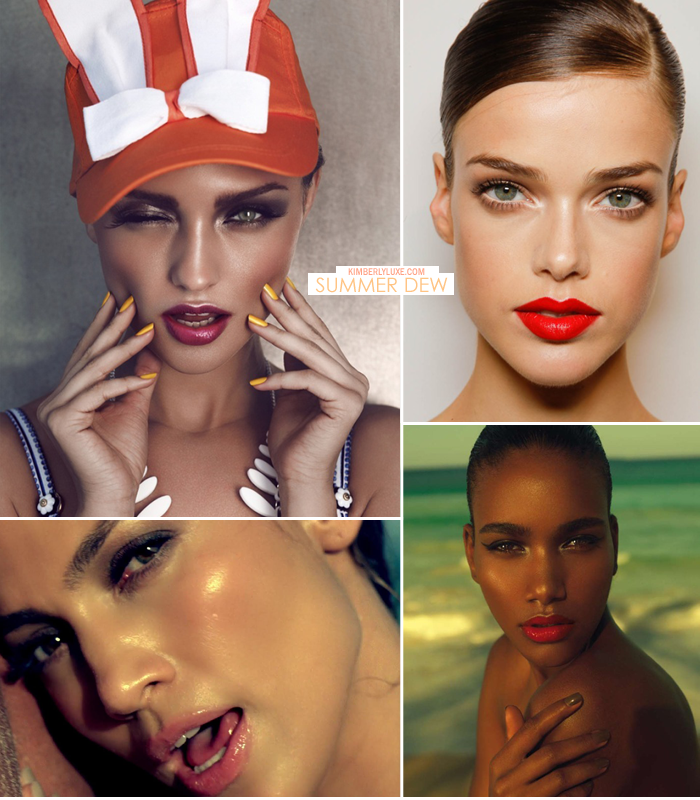 I don't know about you, but I love a dewy face! There's just something about a glistening cheekbone and nose brim that sets my soul free! And luckily for me, I've finally figured out how to accomplish a successful dewy face without looking like I'm sweating underneath Miami's summer sun! The trick? Knowing your skin type, starting with a clean and damp face, and playing with product! If you have naturally oily skin, skip oil-based products. Also, dab your face with Milk Of Magnesia after washing, and pat your skin dry. Milk Of Mag contains, magnesium hydroxide and zinc which both play a huge role in correcting skin problems (i.e. the excessive secretion of oil). And for those with dry skin, go for products that are more liquid based as opposed to powder based. However, if you're going to use powder based product, things like setting sprays or face mists will help revive dry areas that may form. And if you have combination skin, you can use each technique to the areas that you'd consider to be more oily or dry. So with this in mind, let's break down the steps to create le said face. So we can be, Dewin' It and Dewin' It and Dewin' It well.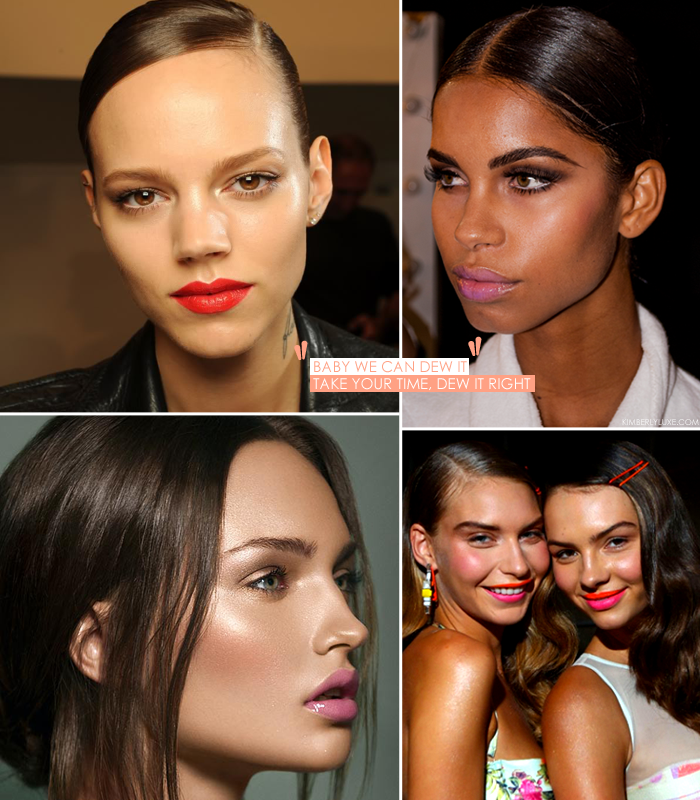 1 E X F O L I A T E // Sugar and/or Sea Salt are my preferences. Exfoliating helps remove dead skin cells and left over dirt/makeup that may be on the face. I've realized that starting any makeup look with a fresh face allows for a much smoother and even look!
2 T O N E // Apple Cider Vinegar is my favorite multiple-use product, as I use it on my hair, skin, and inside of my body by adding it to a drink. I like ACV because it makes for a great skin detox. It has great anti-bacterial properties, reduces inflammation, and is known to help reduce cellulite (not that you'd have cellulite on your face or anything). The purpose of toning? It brings your skin back to pH balance (which makes it harder for skin imperfections to strive), thus it rejuvenates the skin. It also reduces the size of pores, gives added protection to the skin, and gets rid of product left after exfoliating.
3 M O I S T U R I Z E // Moisturizing, obviously, infuses moisture into the skin. If you plan on wearing makeup, a primer is your best form of moisturizer. It keeps you makeup lasting all day while keeping your face hydrated. If I don't plan on wearing a full face of makeup, then I skip the primer and only moisturize my face with coconut oil or extra virgin olive oil because these oils are very light weight which prevents my face from looking too greasy. I would love to wear oils underneath my full face of makeup, but oils do have a "makeup removing" property, which can make my makeup melt off of my face as the day progresses. (Hence, why those with oily skin constantly have to blot the oils and reapply powder). So after exfoliating and toning, moisturize your face with the moisturizer of your choice.


BRONZER My favorite bronzers comes from MAC! Preferably their Mineralize Skin Finishes. They go on beautifully and blend into the skin naturally. And although $30 seems steep, it's lasted me over 8 months, so it's definitely been worth it. Apply with a brush that is more dense (meaning not too stiff) or with a fan brush. I appreciate Ulta's selection of brushes, as they have some affordable ones that get the job done! A cheaper alternative powder bronzer? Maybelline's Fit Me! Bronzer ($6).
SPRAY I first was introduced to MAC's Studio Fix+ Spray when I walked in a wedding last year! The makeup artist finished all of our faces with the spray and our faces didn't go anywhere hunny! After finishing your makeup look, a setting spray will keep the glitteries in place, keeping them from taking over your face by the end of the night. Got time to make your own? (Yep, you heard me right). Get a sterile spray bottle, fill it with 1 part glycerin, 3 parts distilled H2O – replace it every two weeks. Thank me later.
BLUSH Contrast on your face is the best way to create a dewy look! I love Nars' Taj Mahal that I was gifted about two years ago by Drea over at So She Writes! (Thanks again girl!). This blush adds a orangey finish to the apples of my cheeks that also glistens under the sun. I've had it for a while now, (because I don't wear blush on a daily basis), so the $29 price tag definitely is worth it. But trying to find the best blush for your skin tone can be tricky. Check out Goss Makeup Artist's Video where he shares which color blush looks best with which skin tone.
LIQUID Although I just picked up Nars' Super Orgasm Illuminator from Sephora, I'm liking it so far. I'm still trying to figure out the best way to apply it as a little goes a long way, but I'm loving the pinky, coraly, bronzeness it gives. If you're looking for a cheaper alternative, I'd try going for an inexpensive bronzing lotion as the consistencies seems similar!
Finish off your entire face with a setting spray that will give your face the ultimate dewy finish! Check out NYX's $8 Steal (here) that comes in Matte and Dewy! You can pick it up at your local Ulta Store and apply it to just about any face, whether dripped in makeup or not!

Final Thoughts All of these products aren't mandatory for creating a dewy face. Just one can do the trick! And don't feel limited to the products named above. These are just the ones that I love to use! Whether you're wearing a full face of makeup or not, you can still give yourself that effortless summertime glow by just applying SHIMMERY product to the high points of your face and SPRAYING your face with a setting spray. Whatever you do, have fun with it and do what makes you glow!