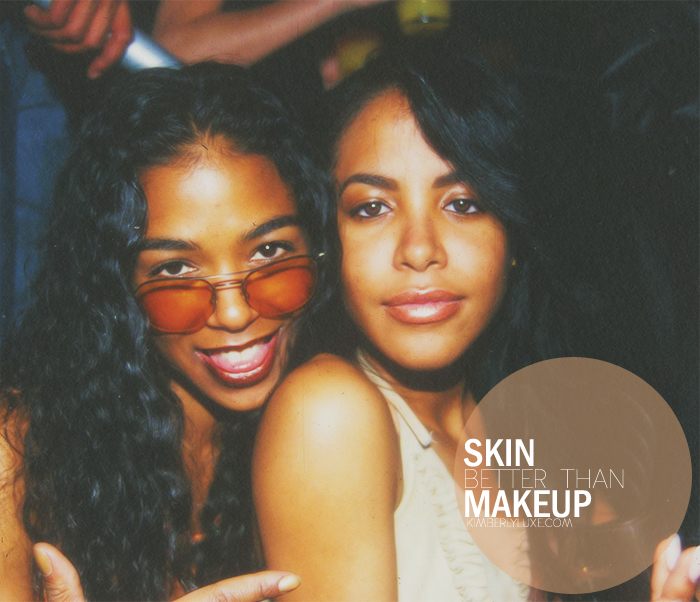 THE EVOLUTION OF BEAUTY | Do you remember the era far before the millennium? The era when clean skin and natural looking brows and lashes were King? The very last days that natural beauty was a commodity and a praised attribute that both men and women alike carried and appreciated? Well contrary to pre-millenium beauty consensus, today's Western society prides itself on the belief system that pounds of makeup and loads of false eyelashes is the key to being deemed, glamorous. It can be assumed that this ideology stems from the advancement of modern technology, the expansion of social networks, and the great influence of media outlets. It's as though, the more we know the more we are able to (and desperately aim to) compete with others who have a following much greater than ours. It's ironic that we attribute social class by the amount of views, followers, and 'likes' we can get from others both on and off of our level. But what if, just what if, we could have skin better than makeup. The type of skin that doesn't
need to be covered up by MAC but instead could remain Makeupless And Clean. Would this in turn allow us to have a more healthier lifestyle, a greater confidence, and a flawless treasure that many women don't utilize or possess? Or have we gotten so absorbed in this artificial age that we now are willing to be beautiful by any means possible? Till Death do us part?
DYING TO BE BEAUTIFUL | Here in America, we spend pretty much every day dying to be beautiful. We wear makeup that is full of chemicals that are not formulated for everyday use. These products in turn yield indirect consequences that are detrimental to our overall health. Whenever we apply makeup, the chemicals are released through the epidermal (our skin). Now this isn't to suggest that makeup should not be worn and/or that makeup alone will kill you. It is, however, an attempt to bring awareness and truth to the products we at times become slave to.
Modern Girl Note: European Women are much like the American Women of the 80's and 90's — less makeup is more. It's no wonder why people say that Europe has some of the most flawless and naturally beautiful women. And because Europe bans a lot of the cosmetics (or particular chemicals in the cosmetics) sold in the United States, for health issues, European women have better health and skin than women in America.
ARE WE SIMPLY CUSTOMERS? FUTURE PATIENTS? | Let's take this thought further. The United States has one of the worst healthcare systems in the world. And European countries, have the type of healthcare that will have a doctor knocking at your door if you call into work sick. Healthcare is readily available at an inexpensive price. It's not a business but instead a benefit of being a citizen of the country. In the U.S., however, the healthcare industry is a business and businesses are in the business of making money. So keeping people ill or sick is absolutely okay, because it yields profit. So just think. If other countries, Europe, Canada, and the U.K., ban a lot of products because they include harmful ingredients it's because they don't want people getting sick. Why? Because in these countries, healthcare is available to everyone at an affordable price. The more sick people, the more work. In the United States, federal corporations benefit financially as the number of sick individuals increases. So why ban particular cosmetics? Take this thought a little farther: The United States is the only country that sells Fast Food at such great proportions. Other countries proportion their McDonald's & Burger King to be smaller — keeping their citizens health as their number one priority.
I'll admit it. I'm guilty. Believe me. I'm the girl who has spent more money on makeup this past year than I ever have in my entire life. It hasn't been thousands or millions, but it has been a few hundreds. But makeup for me is more for fun than anything else. It does, however, make me wonder if being bare faced majority of the time will ever have a positive stigmatism when it comes to dating, relationships, friendships, self perceptions, and attitudes. Could we, here in America, ever go back to the time when keeping it simple, was sexy. Although we aspire to be much like the celebrities and athletes who influence our many choices unconsciously, will we ever realize that heavy makeup 24 hours a day isn't a necessity when we don't have paparazzi in our face at all of the time. Or will we continue to live with such delusions of grandeur? My choice to do beauty naturally is simply a decision because I'm on a journey towards revamping my total health (both inside and out) in a few weeks and I figure, go big or go home.
Although this is a beauty blog, you probably have already noticed my reoccurring theme of teaching and sharing natural beauty practices. I love finding new ways to enhance and repair my skin using the natural elements that are of this earth. And I will continue to share and encourage you all to consider doing the same!
Modern Girl Note: According to Daily Mail, "Millions of men think women wear too much make-up and prefer girls who adopt a more natural look. Research revealed one in five men wish their partner would tone down the slap-on while one in ten said they liked women who wear no make-up whatsoever. Thick layers of caked-on foundation, a favorite fashion trait of celebs like Jordan and Christina Aguilera, emerged as one of the biggest turn-offs – as did overdoing blusher".
THE MISSION & CHALLENGE | In the upcoming months, I will be working on further improving my skin and I'll be on a mission to have skin better than makeup. Although, makeup tends to be the "standard of beauty" now adays, I do plan on reserving makeup for occasions only. And.. I'll also be kicking…. my MAC products – limiting my use of it to only a few times a month. -tear. Instead, I'll be resorting to being a mineral makeup girl as the health benefits are endless. I never had problems with the skin on my face, however, I do still want to keep it tight and healthy for years to come.
Now I know it's quite intimidating, as we do live in an age where 24″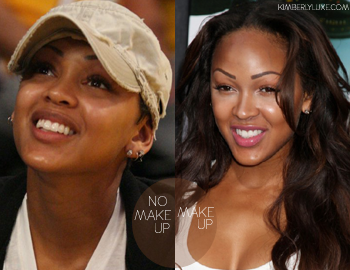 extensions and lashes are on high demand, but it is important that we really cater to our bodies as they are our machines. And we all know that machines (like cars) can be beautiful on the outside, but what's a beautiful car that can't drive? In order for your makeup to be beautiful, your skin must be better than the makeup. Don't just cover your perfect imperfections but correct them so that you can take pride and embrace your natural beauty, completely.
You know what they say about clothing? The same thing applies to makeup. Don't let the makeup wear you, wear the makeup. Examples: Halle Berry and Meagan Good. I used to think that because I have mastered the makeup on my face, I have reached my fullest potential (look wise). But I've come to realize that, we'll never reach our fullest potential by mastering the way we put on makeup but we will, however, reach our fullest potential by actually being the fullest potential. Makeup washes off, your skin, your body, your insides, and your health are all here to stay.
Next year, make sure you remember that skin is always in and focus more on improving what God gave you to work with. We wear makeup to give the illusion that our skin appears even and that we are blemish free — but why give the illusion when we're fully capable of having the real thing?
Here are a few steps to take if you want to work on having skin better than makeup.
Improve skin issues
First and foremost, get your skin issues diagnosed and find out what needs to be done in order to improve it. I always suggest going on YouTube to find a few reviews and testimonials made by women with similar issues. This is important because you'll have information to back up what you want to try in the end. You'd be surprised to know that you're not alone. If you have hyperpigmentation (dark marks, discoloration of the skin), they're obviously a result of scarring. Instead of trying to simply fade those dark marks (as many people resort to), find out what's causing those scars. Is it Acne? Eczema? Psoriasis? Get to the root of the problem to avoid having to do continuous repair.
Change Eating Habits
Believe it or not, a lot of our skin problems as Adults are a result of poor eating habits. Find out which foods can trigger breakouts and work on eliminating them. Fast Food, Soda, Meat, and Sweets are big triggers.
Commit to wearing sunscreen everyday
Believe it or not, sunscreen must be worn by EVERYone in order to maintain an even complexion and to eliminate the darkening of areas that may already be darker on the face. Purchase an everyday sunscreen with an SPF of at least 30, and be sure to apply it before going outside whether it is day pr night, hot or cold! UV Rays exist even when you least expect it!
Come up with a facial routine and stick to it
I keep my face routine quite simple. Exfoliate, Tone, Moisturize. Figure out what works for you and make it happen! My skin does NOT like anything with a fragrance, so I use things formulated for sensitive skin and/or natural products. I especially love masks and muds.
Research & Pick Makeup That Yields Benefits
If you're going to wear makeup, be sure to research the many health benefits that come with the products. Again, whatever you put on your body is what you're putting inside of your body. It's okay to wear makeup, but be sure to do so in moderation and to wash your face twice a day.
Embrace Your Total Self
You're a Goddess! So why live this life hiding all things you. Let this year be the year of perfecting your authenticity. Because that'll be what the people in your life who mean the most will fall in love with.
For those of you interested in keeping organized and staying on track this upcoming year, here are some great tips and trick on how to get the year laid out in one day. And if you're interested, check out my my 100% natural beauty routine done daily with things found in my kitchen.
"Like a moth to a flame, Burned by the fire. My love is blind, Can't you see my desire? That's the way love goes."